Every couple of years Faithlife release an update to their flagship software Logos. The Faithlife developers have not taken a break, and even in the midst of a global pandemic, they have been hard at work. 2020 introduces us to the latest and greatest: Logos 9.
Faithlife was kind enough to give me early access to this new version for review. I have been able to tinker with it for the past few days and use it day-to-day.
Before full-time pastoral work, I worked in the software engineering field. I am, therefore, very interested in bringing the best of technology into church life. Faithlife is a company that does that especially well.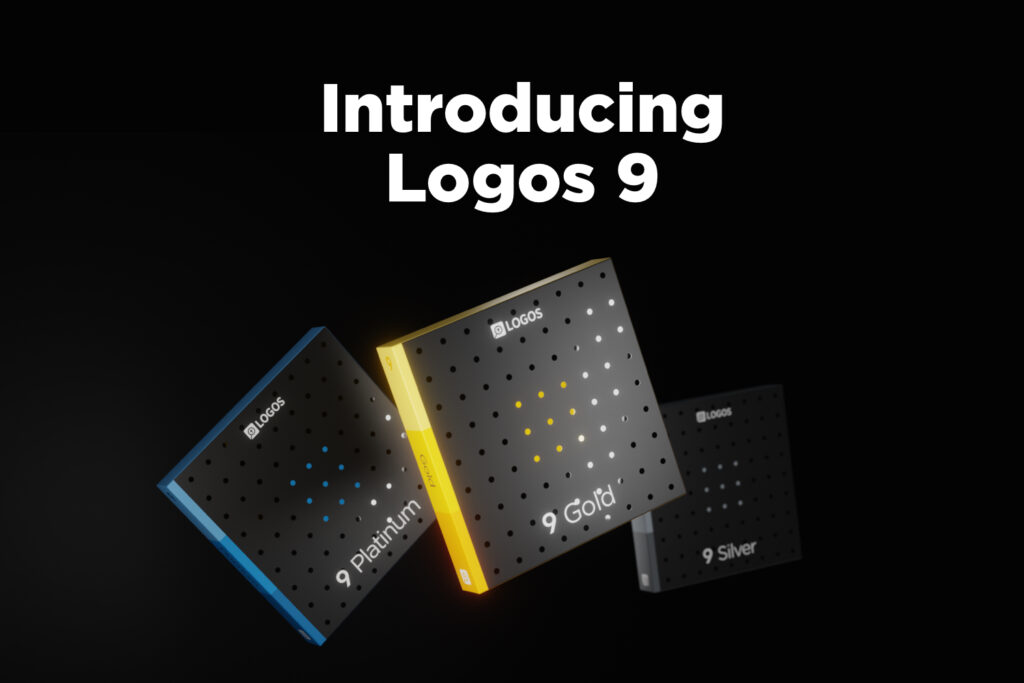 So what's new in this version of Logos, and is it worth your attention? The big-ticket items in this release fall into three areas: Bible study, preaching, and new in this release: Biblical counselling.
Studying with Logos 9
Logos has always been a great place to study. In fact, I have mostly migrated all of my books into Logos because of the powerful tools it gives me.
Faithlife have not sat on their laurels though, with Logos 9 adding a revamped feature that takes studying even further!
The new Factbook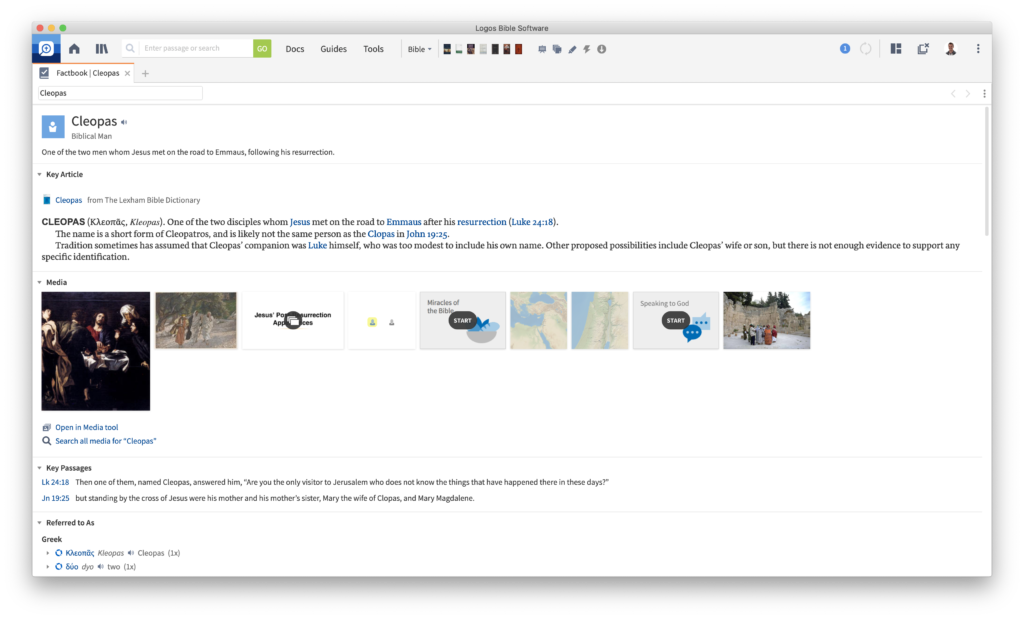 Logos 9 adds what Faithlife are calling Factbook 2.0. In previous iterations, the Factbook was a way of quickly finding a definition, or reminding yourself of some background information. But now, in Logos 9, Faithlife are positioning it to be the place you start your study.
Factbook now includes entries for Greek and Hebrew lemmas, word senses, manuscripts (including links to images of them!), songs etc, as well as everything it included before. It also has content for each book of the Bible, and pericopes in the New Testament (OT is coming soon!). Interestingly, each book of the Bible has an entry on what the big point and intention is, which will be useful for tracing the big themes of each book.
This is available across all platforms, so there is no wait to get home and use 'big' Logos on the computer. You can get the Factbook on your phone, or via a web browser too.
On the desktop version, you do also get the Factbook visual filter. This, when enabled, will underline items in your Bible and link them directly to their entry in the Factbook. This is a really nice way of being able to look things up nice and quickly.
To have facts and background information at your fingertips so easily is great. When doing my background work, I used to have to open a number of different dictionaries and books. Now in Logos 9 these are all available in one click.
Preaching with Logos 9
If you are a preacher, Logos 9 has added a number of tools that will appeal to you. Preaching directly from Logos became a real possibility since Logos 8. It is great to see that Faithlife continue to work hard at making Logos a useful tool to that end.
In Logos 9 there are three big changes to that effect:
Sermon Builder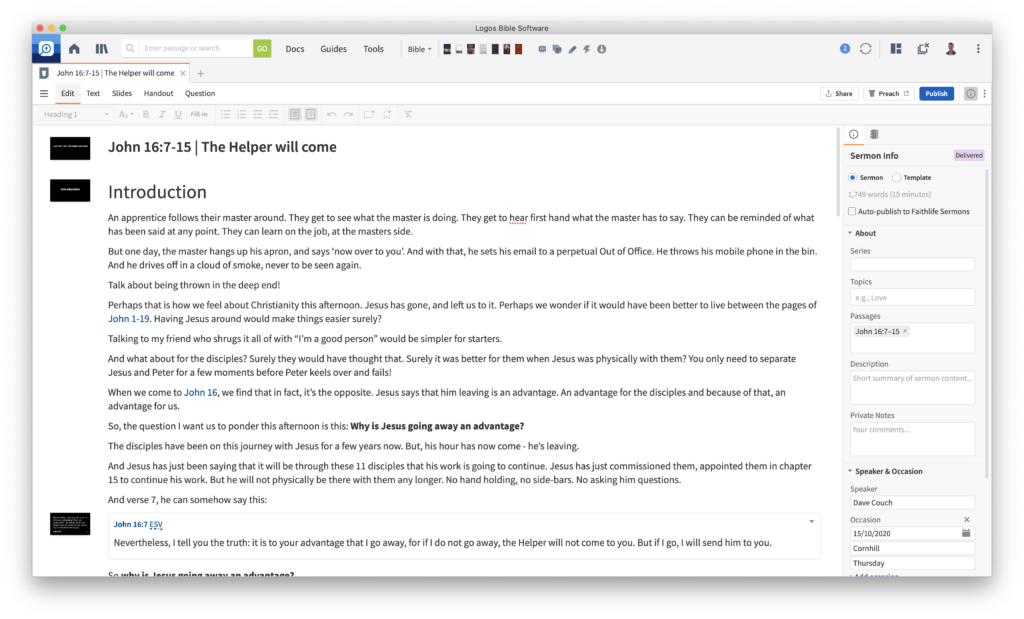 One of the features I use almost weekly in my job is the sermon editor. The sermon editor is renamed 'Sermon Builder' in Logos 9 and has received a number of enhancements.
You are now able to insert content directly from a notebook. I am interested to see how this may streamline my preparation process. I have not used notebooks in this way before, so it looks intriguing.
Secondly, you can now have a sermon template. As I have studied at Cornhill over the past few years, I have been slowly creating my own template, and I had started to fill in a separate document before coming into Logos to write my manuscript. This small tweak may well be a game-changer for me.
Preaching Mode for Sermons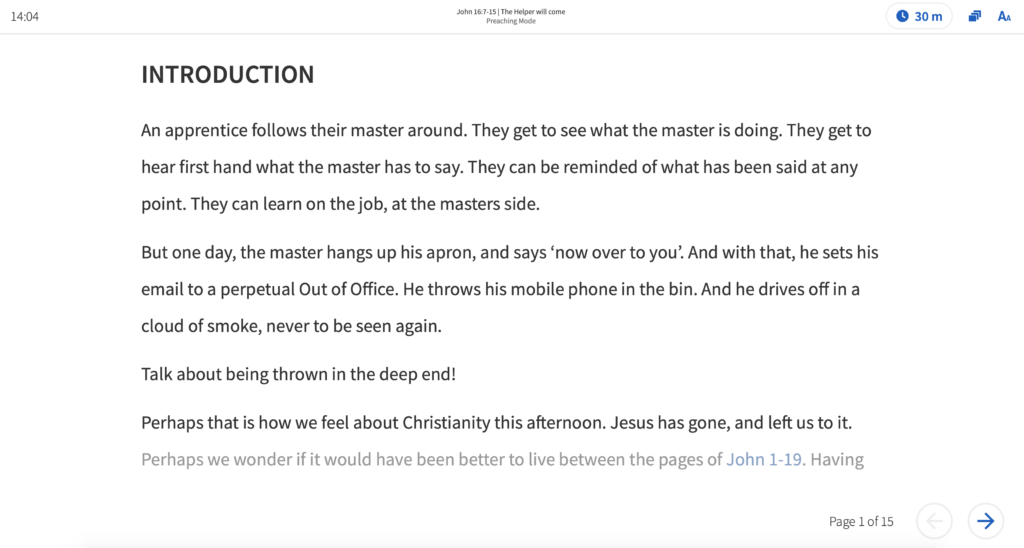 One thing that was alright, but could do with some work in Logos 8 was the actual moment you got to preaching. If you chose to preach directly from Logos, your only option was a pretty bare-bones text viewer.
But that has now changed in Logos 9 with Preaching Mode. Once you have finished your sermon, you can now put Logos into preaching mode. What does preaching mode do? Well, it presents your manuscript in a large readable font, either scrolling or paginated, with no other distractions. You are able to customise the font (serif, sans-serif or mono), and you can change the font size to your liking.
Preaching mode also displays the current time, as well as options for a countdown timer – including the option to be alerted when you have only a few minutes left of your allotted time!
I used this tool last Sunday, and it was really simple and easy to use. You can click the buttons, or simply use your keyboard to scroll through the text. If you are in the midst of a paragraph before the page ends, the text has a semi-transparent look to it, so you know where you are as you change screen.
This feature uses a web browser on the desktop, and is baked into the mobile apps (without an internet connection).
Sermon Manager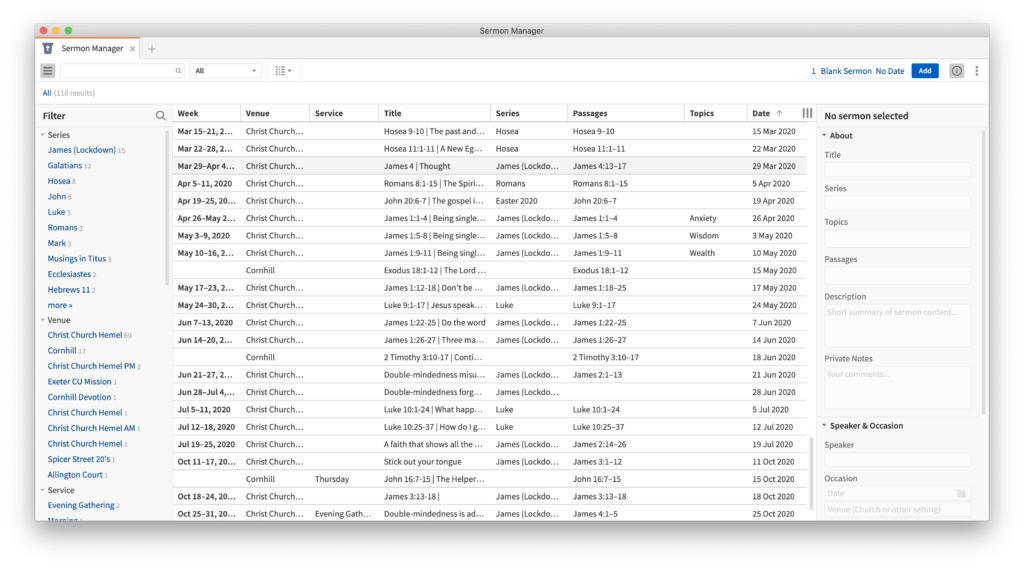 The final new aspect of the preaching system is the sermon manager. In Logos 8 I had been naming my sermons in a "Passage | Title" format in order to keep things organised.
But now in Logos 9, you can view and browse all sermon documents by their metadata inside the app. You can sort by date, passage, topic, series, venue – any bit of metadata that you have added.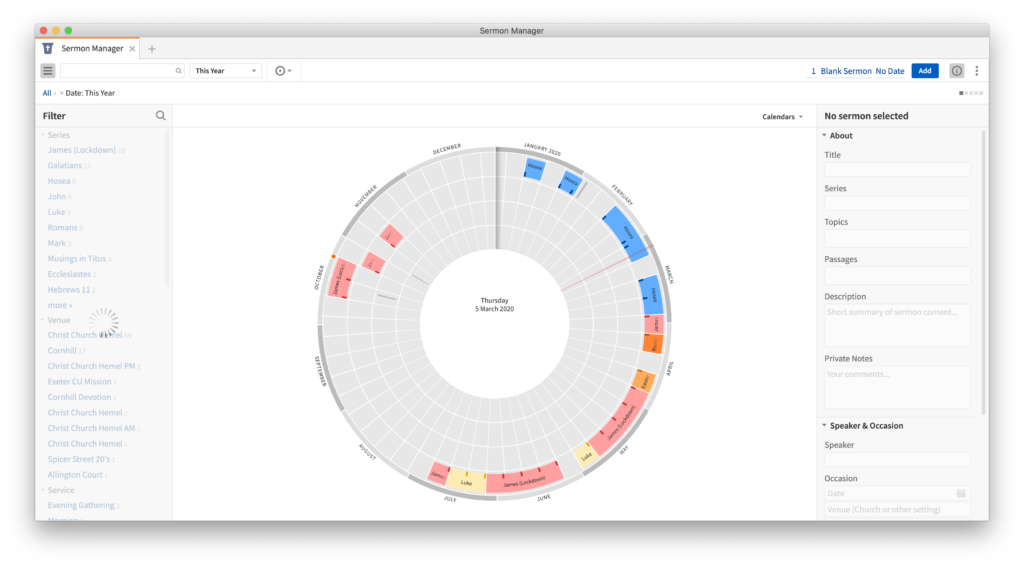 Another nice feature of the sermon manager is the 'radial view'. This lets you see how your sermon series fit into the whole year. If you have your church's calendar syncing with Faithlife, you can also pull that in and see it all in one place.
Counselling with Logos 9
One area that Logos has not really touched before is the area of counselling. Faithlife have stocked books and journals on the topic, but it was basically down to you to find the information yourself.
Counselling Guide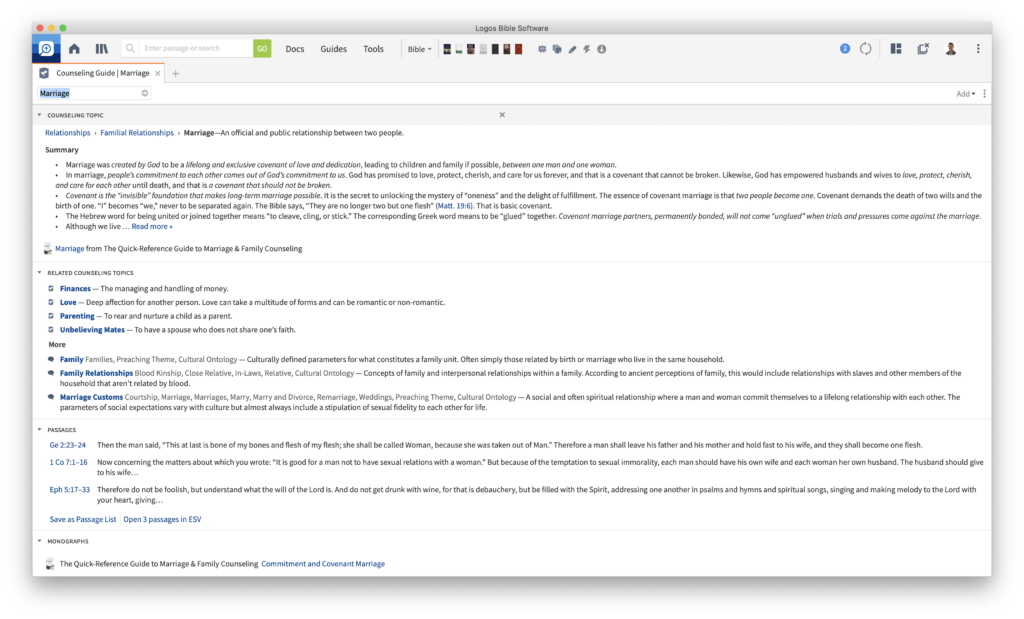 This has to be one of the most interesting parts of Logos 9. In my work as a pastor, I felt particularly in the deep end when having to counsel people. So when I saw that this had been added into Logos 9, I jumped straight in.
What Logos has managed to do is add a companion, which allows you to look up any topic that may need counselling, and find quick information on it. What this means in practice is that you can give a topic, and Logos will give you back a whole load of information, including interview questions, helpful Scripture, and further reading.
I met with someone this week and was able to take advantage of this feature straight away. The interview questions are really helpful and are stored inside Logos for reference later on. This means that next time we meet, I can check on these notes and pick up where we left off. Also, being able to add notes via my mobile, and have them straight away on the desktop is invaluable. Thanks for this one Faithlife!
Faithlife say that the feature is 'done', but there is still more data curation and tagging to be done. I for one would love to see integration with The Journal of Biblical Counselling. I have a load of information hidden away in there that I would love to have more accessible.
Other Niceties in Logos 9
Hebrew Audio Bible
I noticed that in my upgrade to Logos 9 Gold I received 'Audio Reading of Hebrew Old and New Testament'. Since beginning to learn Hebrew I have been after a good high-quality Hebrew audio Bible, and it appears Logos now provides one!
Dark Mode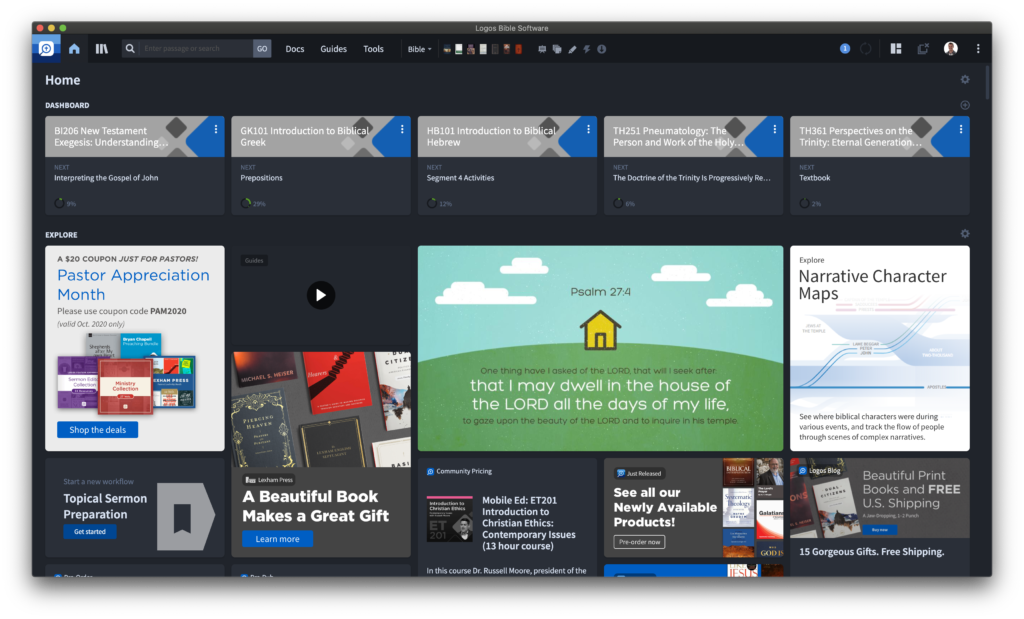 Logos 9 also now includes a dark mode for those who use that. So if you are working late, it will no longer blind you!
Images in Notes
Notes now accept images. This means you can now include screenshots and scans of documents right inside the program. These sync across all the apps, which is extremely useful.
Charts tool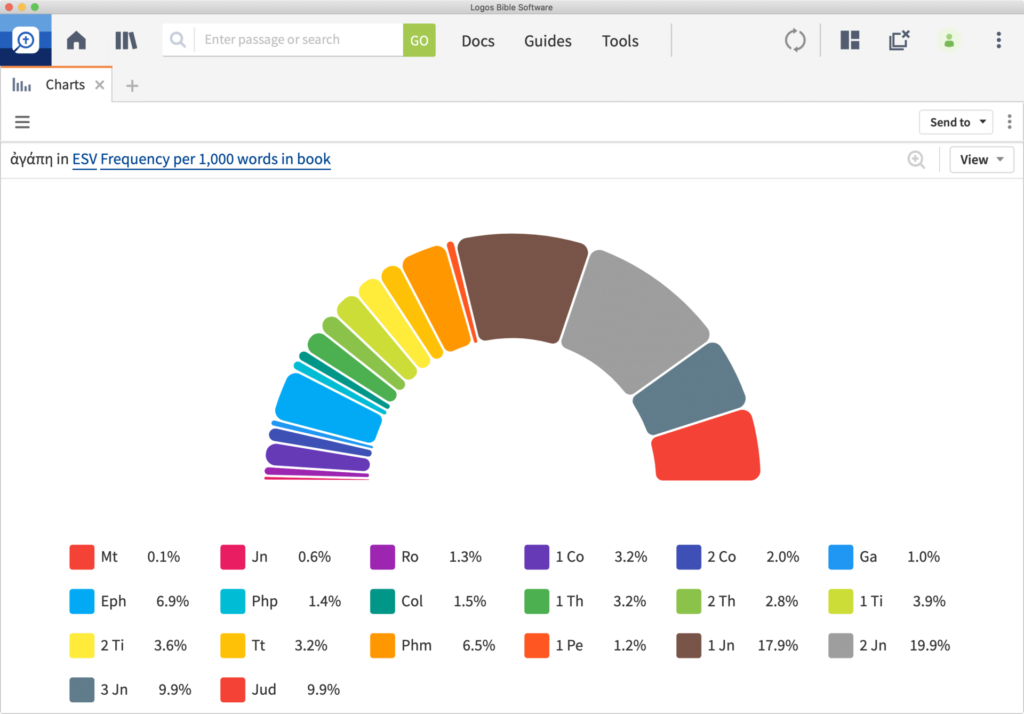 The charts functionality has greatly improved in Logos 9. There are new chart types available, and you can also customise the colours. The charts tool is now available in the Tools menu, as well as on the search toolbar.
Improved Reading Plans
Logos has the ability to create reading plans. I used this feature during the past year to get through one of the NSBT series a month.
Now in Logos 9 it is even easier to use – simply right click on a book in your library and you can start a reading plan from there.
UI improvements
In Logos 9 there are also a number of nice user interface improvements. For example, you can now manage your documents inside Logos more simply using the newly added document information pane. Sharing permissions are now easily accessible too from the same place.
Quickly switching Logos accounts is possible now using the revamped app toolbar (for those who use the same computer as others). Accessing other commonly used settings (e.g. dark mode) can be done here too.

One other nice bit here is that you can finally group icons. I used to have a list of Bibles along my toolbar. These are now hidden away under a 'Bibles' folder.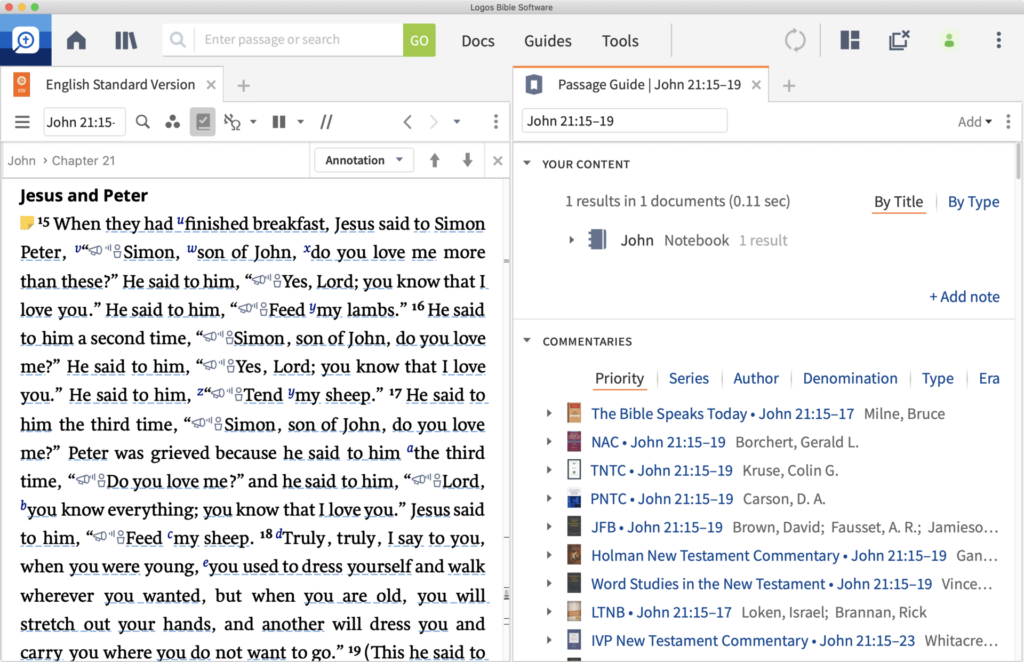 Commentaries can now be sorted by series, author, group, type, era and denomination in the passage guide. These were things that I had set up collections to do before (thanks to Mark Barnes!), so it's nice to have it baked into the software. Commentaries also have a uniform look to them, so it is much easier to see which commentary on Luke you are looking at!
Conclusion
So that is Logos 9! I hope to create some videos of the new features at some point soon. Overall it is a very nice release – not as visually different as Logos 8 felt, but the quality and tightening up of existing features make it a worthwhile release in my books.
The stability of the product on day one was very impressive. Other software companies seem to have let Quality Assurance slip in their recent releases – but Logos 9 feels as stable as the final release of Logos 8.
So what about the cost? This is one of the criticisms I hear regularly about Logos. However, as always, to upgrade to the Logos 9 base engine is completely free, and all the books and resources you already own are usable without paying anything (you will likely to have to wait a couple of months though before that is available).
Books and new features are the things that do cost money. As with all releases of Logos, you can pick what you need, and get a discount based on what you already own. Make sure to take advantage of the big release party discounts (in fact, the link below will give you 15% off, and 5 free books!)
Many thanks to Faithlife for providing me with a free upgrade to Logos 9 Gold in exchange for writing this review. I was not required to give a positive review – that is fully my own opinion!