In what has become a tradition on my blog, I hereby present my top 5 books of 2016 for your perusal.
Before getting to the books though, I just wanted to answer the question "How do I come up with this list?"
Well, there are a few criteria that these books meet. Primarily, these books are ones that have either:
changed/enhanced my worldview
challenged/developed my understanding
books that I want to share with others
So, without further adieu, here are 'my best reads of 2016'!
5) The Atheist Who Didn't Exist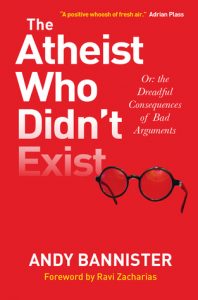 Kicking off my top 5 list is Andy Bannister's 'The Atheist Who Didn't Exist'.
Andy Bannister is one of those writers who, as you read him, you can tell is British. If Monty Python were to meet Terry Pratchett and write a book on refuting atheism, this is what you'd end up with. This is surprising though, since his other published book is a very intellectually heavy book on Islam…
Anyway, back to this book. Andy tackles the objections to Christianity by the so-called 'new atheists'. He does this by taking the argument being posed by them, and changing one of the variables to show how bad the argument really is. Each of the chapters is one of these, so you end up with chapters such as "The Peculiar Case of the Postmodern Penguin (or: Why Life Without God is Meaningless)", or "Humpty Dumpty and the Vegan (or: Why We Really Do Need God to Be Good)" to name a couple.
If you enjoy humor whilst having your worldview challenged, this would be a great choice.
4) The Absurdity of Unbelief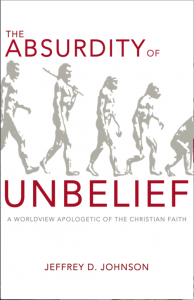 The next book in this list is 'the Absurdity of Unbelief'. This is a book about world-views (I read a lot on this topic in 2016). Johnson's main point is that everyone believes in something, whether it is rational or not.
"Even atheists have some concern that is ultimate for them"
From there he goes onto look at all the world-views and beliefs that people hold, from atheists through to the major religions of the world. Taking quotes from people who hold these views and analyzing them, he looks at whether they can hold up under their own weight.
One aspect that I feel is very important for us in our own day is that we do not understand our own fallibility. We need an external source of revelation in order to make sense of our world, because we cannot do it ourselves (see The truth of post-truth) – our own feelings cannot be our guide.
"It is true that we are often irrational. And because of the awareness of our own fallibility, we should never elevate our human reason above divine revelation."
If you're after a book that is intellectually heavy, but worth it, this is for you.
3) Paul and the Law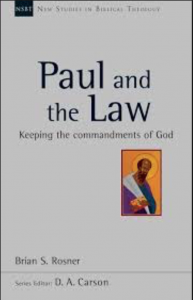 Another big topic for me this year has been how the Bible holds together, and how major themes play into this (in the academic world, this is known as Biblical Theology). There have been a number of great books I've read this year on the topic, but Brian Rosner's Paul and the Law has been one of the most foundational for me.
Basically, Rosner makes the argument that the law does not apply to us in the same way as it did to the nation of Israel under the Mosaic Covenant – but this does not mean it doesn't apply to us at all. Contrary to the historical 'three uses of the law', Rosner goes on to prove (convincingly in my opinion) that New Covenant believers can see the law in three lights:
repudiated
replaced
reappropriated (as prophecy and wisdom)
An example of all three can be seen in the first letter to the Corinthians. In 1 Corinthians 7:19 we see the law as legal code repudiated ('circumcision is nothing') and replaced by the commands of God. We then see it reappropriated as prophecy in 1 Corinthians 8:5-6 and as wisdom in 1 Corinthians 5:13 and 9:24.
This book has helped me immensely with how to understand the God's law throughout the Biblical canon, and one of the aspects of 'newness' in the New Covenant.
2) The Reformers and their Stepchildren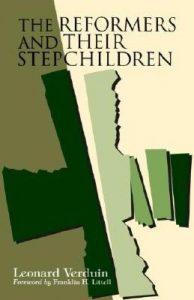 I have always been a bit of a history nut, and with the fast approach of the 500th anniversary of the Reformation, I wanted to read some more on it.
Verduin takes a number of insults, levied against the supporters of the second wave of the Reformation, and shows how they were heinous in their day, but nowadays we would be likely to agree with them.
This book helped me in understanding how history plays a massive role in theology, particularly in the way it influences thinking. Usually the reformation story starts in 1517, but this book starts with Emperor Constantine, and explains the effects of Christianity becoming the Roman state religion, and how that lead to the sacralism that has impacted the church ever since.
If you're interested in Christian development, or just general history of Europe and America, this is a fascinating read.
You can read my full review here.
1) God's Kingdom through God's Covenants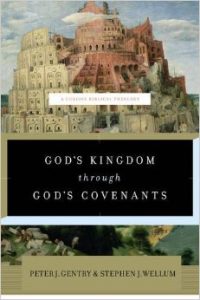 My number one book of 2016 has to be 'God's Kingdom through God's Covenants' by Peter Gentry and Stephen Wellum. This is another book on Biblical Theology, and proposes a thread that ties the whole Bible together. This book is an abridgement of a much larger book (which I also read this year) called 'Kingdom Through Covenant', which I felt was needed for the masses to get their head around.
Gentry and Wellum basically walk through the Bible story, using the theme of God's Kingdom as the overarching theme, supporting by the 'backbone' of covenant. Throughout the book, Gentry and Wellum make the clear point that we need to read the whole Bible in three contexts: textual (what does the passage say), epochal (how does the passage fit into the time period) and canonical (how does the passage fit into the whole Bible story).
From there on, the authors go through the six Biblical covenants and talk through the Bible story using them. It really is fascinating to see how the themes all tie together and made the fulfillment in Jesus all the more amazing!
If you're after a comprehensive theology of the Bible, or want to see how the individual pieces fit together better, this is highly recommended.
---
What were your favourite books this year, or what would you recommend? Let me know in the comments below!
You can also see my reading statistics over at GoodReads: