'History is foundational to the worldview presented in Scripture'. As we read the Bible we need to know that it's contents were written to a specific people at a specific time. Therefore we need to 'go to Corinth' – to understand what the original readers would have thought – before we apply truths to ourselves. This is where Crossway's Archaeology Study Bible aims to help.
As famed Biblical archeologist David E. Graves says, archaeology is not a 'proof' for the Bible. Instead it should inform our exegesis. This is why I was excited to hear about Crossway's latest study bible. And why I was even more excited they offered me a copy to review!
So let me take you on a tour…
Look/Feel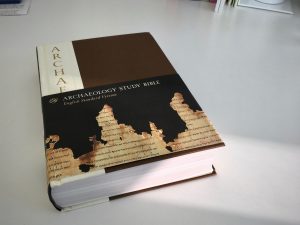 The very first thing to say about this Study Bible is that is it looks great! So, in comparison to other reviews on this site, you'll notice a load more photos.
Text is in double column paragraphs with translation footnotes in a single column under the text and the references in a single column under that. Archaeological notes are at the bottom of the page in two columns.
With the amount of information provided, there was a trade-off in the page thickness. This does lead to text being visible through the pages, but this is not unlike other similar volumes. Obviously this is also needed in keeping the price down – as well as the weight – which is appreciated. It's also worth noting that the maps provided at the back of the Bible are printed on much thicker paper.
Content
The content is what really shines in this volume. Scholar involved in archaeology or related fields are the authors of all the articles. This means that the study bible aims to steer clear of the sensational, but unreliable, discoveries in archaeology. This results in information that is well attested, and the reader can know that they getting the best information.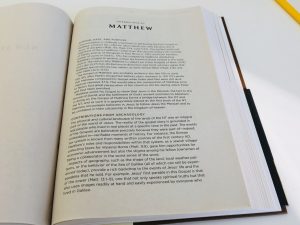 Like many study bibles, the Archaeology Study Bible contains  an introduction for each Bible book. These include the author, date, purpose, and outline.
What makes this Bible different though is the specialised 'Contributions from Archaeology' section. Here you will be pointed to discoveries that influence exegesis of the particular book. These introductions also whet the appetite for what will be presented in the next few pages. There is also a historical map for explaining the setting of the book, as well as a date of composition.
Maps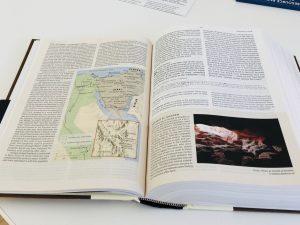 The Study Bible contains over 700 maps. These include the introductory maps, but also others showing key events. These are useful for seeing journeys or the setting of events in the Bible.
As someone who gets lost in the place names, or by places being renamed, I find these extremely useful. These maps help the reader to see the key locations – adding more depth to what is being read.
These maps also have zoomed in sections if particular events are happening in a smaller area. Or provide arrows to show where movements took place.
Locations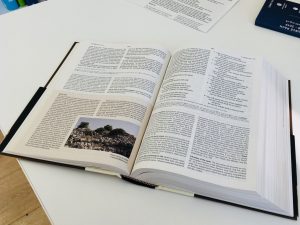 As you come across locations, you will find an article written on it. This includes information about the place itself, as well as information on any archaeological digs done there.
I found this helpful when looking up a passage in 1 Samuel (pictured). This presented an article about Shiloh, which referenced all the other places the location came up in the Bible text. It also presented information on the recent digs and discoveries found there. These are really interesting to read, as well as providing useful information.
Cultural concepts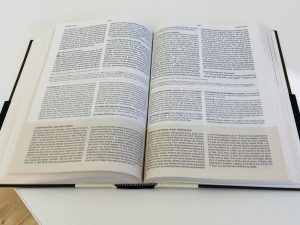 The other type of article throughout the Archaeology Study Bible is cultural concepts. These ideas that come up throughout scripture that we do not have today.
When preparing a passage in Mark, I noticed one on the rabbinic use of parables. This helped me understand the common phrases and questions that a rabbi would have used, and helped me see that Jesus was using a method widely attested in that time period and location.
I look forward to discovering more articles interspersed throughout the study Bible!
Inter-testamental information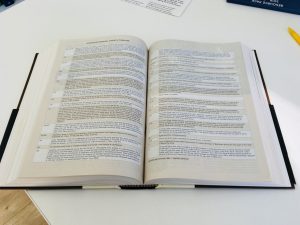 I really liked the inter-testamental information found before the New Testament. Not many Study Bibles I have used mentioned very much on what happened in the 400 years of silence.
The Archaeology Study Bible though has articles on what happened in Judea-Palestine, the Dead Sea Scrolls and what was going on in the wider world at this point in history.
It also contains a timeline that I found particularly useful. This timeline contains Bible references to things the reader need to be aware of in order to exegete the passages faithfully.
Articles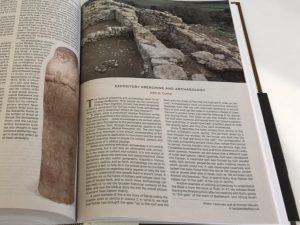 I want to draw attention, finally, to the articles found at the end of the study Bible.
Here there are 7 articles, written on different areas of Biblical archaeology. Particularly of note in here is John D. Currid's article on 'Expository Preaching and Archaeology'. This raises a number of uses for archaeology in exposition. As Currid states 'Archaeology anchors the texts in real everyday life, highlighting the "life setting" of Scripture.
There is also a useful timeline of Biblical History hiding at the back, allowing the reader to see major historical events across the major civilisations at the time.
Conclusion
This study bible is a great addition to any Christian's Bible study. Crossway has now published three study tools that, combined together, aid the reader enormously. The Archaeology Study Bible joins the ESV Study Bible (2008) and the ESV Bible Atlas (2010), providing a suite of introductory Bible study tools.
Personally I enjoyed using this Bible to prepare talks/studies in Mark, Colossians and 2 Peter. The insights provided were extremely useful, and helped me to get closer to what the original passage meant. I highly recommend it.
Thanks to Crossway for another book to review! They provided me this book for free so I could honestly review it.
The Crossway ESV Archaeology Study Bible is available now in the UK.
Archaeology Study Bible Promo Video
Features include:
• 2,000+ study notes
• 15 detailed articles
• 200+ doctrinal summary sidebars
• 700+ maps and photographs
• Extensive glossary
• 4 timelines
• Cited ancient texts glossary
• Book introductions
You can download an excerpt or access a digital version through ESV.org.